Thai native Kanjanut Thomas, Surin's niece and daughter of longtime Little Thailand cook Malee Pierce, is helming the kitchen, turning out fragrant massaman and yellow curries, noodles dishes, mango sticky rice and dozens more popular Thai dishes.

The menu has expanded from its original incarnation, and Kanjanut's husband, Thanet Thomas, has completely renovated the dining room, which now seats about 40. Dick's horseshoe-shaped bar adjacent to the dining room is being used for storage, but the Thomases plan to incorporate the unique watering hole in the restaurant. They also have plans for back patio seating when the weather warms.
Thanet Thomas, who graduated from Madison High School in San Antonio and has worked in restaurants in both San Antonio and Las Vegas, moved to Austin last year with his wife, who arrived from Thailand last year with a long history of cooking. Kanjanut most recently cooked in automotive factories in Rayong, Thailand, preparing lunches for about 2,000 people a day.
Thomas, who brings the same exuberance and warmth to the restaurant as that of his aunt and uncle, says he is excited to bring fresh Thai food back to the area and welcome back old customers and "make them feel like Uncle Dick is still here."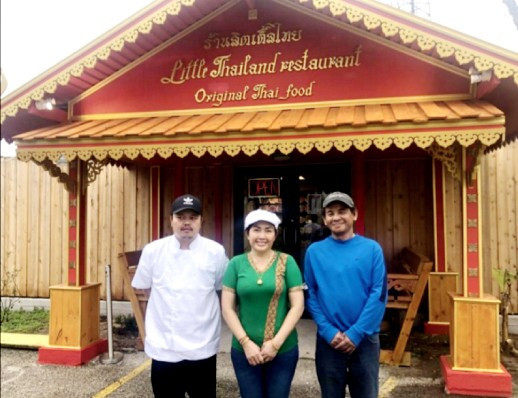 "The goal is to make people happy," Thanet said. Air Force veteran Simcoe and Surin opened the restaurant in 1995, but Surin closed it in 2014, five years after Simcoe's death. Simcoe, who started the restaurant as a trailer outside Austin-Bergstrom Air Force Base in 1981, was famous for his hospitality and cocktails like a spicy Thai Bloody Mary and created a following that included local resident and former Faces keyboardist, the late Ian McLagan.